We, the community of Holy Rosary Parish, are committed to assist Mary in her mission. We are guided by the Holy Spirit to promote a Marianist spirit in developing Small Church Communities. To achieve our mission, we have created a style of leadership based on the Marianist System of Administration.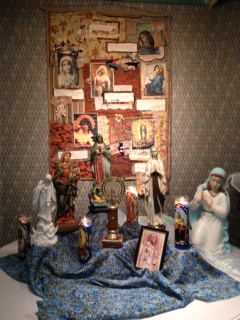 Marian Feast Adornment


Goals
Faith Formation

To continue to develop and strengthen Small Church Communities
To be evangelized and evangelizing in the Marianist spirit through our interaction with others
To encourage a strong and dynamic liturgical ministry
To assure that all parish ministries reach out to the youth of our church

Catholic Education

To assist parents in recognizing their role as the primary educators of faith to their child
To teach Godís Word through well-developed catechetical and biblical formation programs
To empower youth to become leaders of our church

Stewardship

To work for justice in response to the social change in our world
To involve our youth in opportunities of service in building the Kingdom of God
To encourage all ministries to reach out and provide for people in need in our community and the larger church
We entrust our mission to Mary and pray that the mysteries of the rosary shape our faith, fill us with hope, and make our love worthy of Her.